Effective Client Testimonials and How to Use Them
Years ago, to bag new work opportunities and newer clients businesses were primarily dependent on word-of-mouth advertising and promotion.
Once they delivered an excellent product or service and earned a happy customer, the chances of working with his or her friend, relative or colleague was high.
However, this form of promotion had its limitations as it catered to a relatively small set of people. Times have changed and so have marketing tactics.
In today's online world, where physical interaction is limited, companies are employing numerous marketing solutions to further their business prospects.
Client Testimonial is one such tool that adds a new dimension to the age-old word-of-mouth promotion, and if used correctly, it can support your advertising and marketing initiatives brilliantly.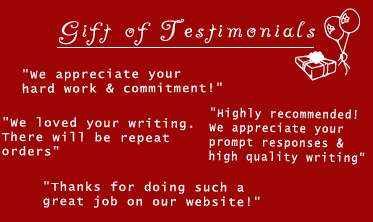 WHAT ARE CLIENT TESTIMONIALS?
According to Dictionary.com, a testimonial is "a written declaration certifying to a person's character, conduct, or qualifications, or to the value, excellence, etc., of a thing; a letter or written statement of recommendation."
Testimonials or Recommendations from past employees or clients is especially useful for small business owners, Content Writing Service Providers or Freelance Writers.
Testimonials from previous clients add to the authenticity of the service provider's claim of excellence. It is a stamp of approval, a go-ahead for other prospective clients or customers.
THE IMPORTANCE OF A CLIENT TESTIMONIAL
Your website is a representation of your products and services. When you create your website copy, you try to make it as attractive, persuasive and believable as possible.
You do this by describing how your products and services can simplify and transform the lives of your customers and their businesses like never before.
All this is fine and dandy but did you ever question why your prospective customers will believe all your tall claims? Why will your website's visitor choose your services from all your competitors?
This is where the importance of Client Testimonials is truly understood.
TESTIMONIALS ADD AUTHENTICITY TO YOUR CLAIMS
When you talk about the usefulness of your products and services and how you can make a difference, you must support these claims with real, tangible proof.
Testimonials from satisfied clients and customers act as evidence, authenticating your claims and making them credible.
This is one of the reasons why it is important to get effective client testimonials, ones that briefly describe what is it that you did for the client and how your services helped them reach their goals.
TESTIMONIALS HELP IN DECISION MAKING
When a prospect browses your website and considers whether or not to hire your services, reading your clients' testimonials and learning about their positive experiences with you may be just what is needed to push them to make a hiring decision in your favour.
A large number of marketers publish client testimonials on their website's Contact page so that prospective customers can read about other satisfied content writing clients and quickly send you an inquiry.
TESTIMONIALS ADD VALUE TO YOUR WEBSITE AND GENERATE TRUST
Effective testimonials from your past clients add considerable value to your website and generate trust in your products/services.
It is a stamp of approval that reassures potential clients that you are running a credible, professional business and that you are serving the needs of your customers well.
Moreover, when you publish testimonials from your clients in chronological order, you show to your prospects that you are in business and that your services are in demand.
TESTIMONIALS PLAY THE ROLE OF A PR HEAD
Testimonials don't cost you a thing and do so much for you in return. Genuine, well-written testimonials can act as your PR head, communicating with your prospects and presenting your case to complete strangers who happen to visit your website.
TRUTHFUL RECOMMENDATIONS ARE GREAT FOR YOUR BUSINESS
Genuine and authentic client reviews are excellent for your business. However, fake ones can do tremendous damage to your website and your reputation as it takes away all the trust and faith in your enterprise.
Now that you know the importance of Testimonials let us find out how best you can use these tools for your website.
Where Should You Publish Client Testimonials?
The most common practice is to post all your client testimonials on one dedicated web page, namely the Client Testimonials page. When new testimonials are received, this page is updated.
While there is nothing wrong with this approach, many people believe that there is no reason why testimonials should be limited to just one page of your website. 
Once you have received a recommendation from a satisfied customer or client, feel free to use it anywhere on your site.
Some of the best spots to publish testimonials include –
Home Page
Contact
Portfolio
Print Ad
FAQ
Services or Products
Sales Letters
Your Company Blog
Twitter and FB Page, etc.
If you haven't already, start using this powerful tool on your website and see the difference it makes to your conversion rates.
Also Read: Essential Pre-Requisites of a Relevant, Effective and Good Client Testimonial
Are you looking for an experienced and dependable content writing service that you can keep coming back to? HIRE US NOW